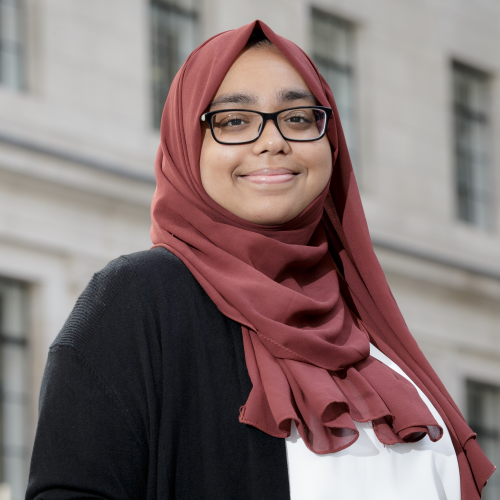 Our current Masters Compare Scholarship holder Marjana has shared an update with us explaining what it has been like to study using hybrid learning during a masters degree.
'Thinking back to when I accepted the offer to study my Masters in Management at Imperial College Business School, I was still only halfway through my third year of university and in the peak of Covid. Having had a third of my degree online at that point, I was worried about being able to have lectures in person, and how that would impact my experience both inside and outside of the classroom.
After all, pursuing a Masters is a big financial and academic commitment, and I wanted to make sure that I could make the most of it! As it got closer to the course start date in September 2021, I also remember feeling as if everyone would have finance and business backgrounds apart from me.
However, within the first few weeks into the course I realised that most of my fears were unfounded! As I met classmates with backgrounds ranging from architecture to theology, the realisation that we were all in the same boat really helped me to settle in to my studies and integrate into the cohort.
Since then, I've tackled subjects such as accounting, finance and strategy that I didn't think I could cope with, let alone thrive in. Despite the steep learning curve, one of the biggest lessons I've learned from the course as a result has been to stop underestimating yourself and be ambitious in learning about new areas – you never know what you will be good at unless you try!
Adapting to hybrid learning during a masters degree – challenges and opportunities
Throughout the course, Imperial has been very good with running lectures, classes and career events in a multi-modal format, such that students can participate both in-person and online in real time. Although I have attended most of my classes in person, having flexible study options has been really useful – especially in job application season when you may have classes and online interviews on the same day! Using multi-modal formats has also allowed us to interact with people and organisations from all over the world we wouldn't get to usually meet – such as the former Secretary General of the United Nations, Ban Ki-Moon.
However, as with all things, hybrid learning also came with its fair share of challenges. The main one was scheduling meetings and organising work schedules for group projects, given some students were exclusively online and others were on-campus. As someone that naturally leads and facilitates in group settings, it was stretching to successfully manage discussions and ensure everyone was engaged and supported.
But, on the flip side, the experience has developed my delegation, feedback and communication skills, which are key skills for a future manager!
What have been the highlights of your time on the course so far?
Aside from the interesting group projects we've had during the course – launching and marketing a new product, making investment decisions for a mock firm and even finding the operational bottleneck in a cranberry factory – the highlights of the course so far have been opportunities to go beyond the curriculum.
For example, I have been a Career Support Volunteer for the Social Impact and Responsible Business Club, where I have guided students through their job and internship applications. It was really interesting to be on the other side of the mentor-mentee relationship and network with students interested in other career areas from me.
What advice would you offer to anyone wanting to take a postgraduate programme?
I would echo the advice already out there – make sure you do your research! For me, because I knew that I wanted to enter the Consumer Goods/FMCG industry, I chose a course that had electives in this area like Brand Management and Consumer Behaviour. Although its easy to jump from undergrad to postgraduate, take the time to learn about what you actually want at the END of the course and then see which courses would align the best with your goals.

Another big pointer is to see if it's possible for you to land a job where your employer contributes (or even covers!) the cost of your postgraduate study, so that you can get the best of both worlds by combining work and academia. It may appear at first glance that only research-based PhDs are funded, but you would be surprised how many Masters are sponsored by firms eager to hire you – so leave enough time in your application cycle to look at these.
Has it been easy to adjust to studying a completely different subject, or has that been hard?
I would be lying if I said that shifting from the hard sciences to business was easy at first – the way you go about writing reports, researching and even thinking about problems is quite different.
However, the good news is that you adjust to these things quite quickly and actually bringing a different perspective helps you be more critical and inventive in your approach to the curriculum. You also never know when your previous knowledge will be useful – for example, studying virology modules at undergrad meant that I became the expert on the Moderna case we investigated in Innovation Management class, even though the focus was on intellectual property rights.
Has anyone or anything at the university made a big difference to your experience?
As I mentioned previously, I did experience imposter syndrome at the beginning of my postgraduate journey, being a first generation graduate who was state educated. The person who helped turn around my mindset was my Career advisor, Maureen Nicholas, who really took the time to learn more about me as a person alongside giving me stellar advice on my job applications.
By helping me feel confident in my abilities and ambitions, I've been able to be more courageous in my classes, networking with professionals and ultimately landing my dream job as a Key Account Manager for Procter & Gamble. This story highlights the importance of students finding people in your university who will be your champion, and help guide you through your personal and academic journey.
Is there anything else that you know now that you wish you knew before you started your course?
If you are even thinking about studying at postgraduate level, start planning now. Make sure that you know when the deadlines are for different stages of the application process and what you should expect. I missed out on key scholarship and bursary opportunities because I thought about applying to them too late in the year – don't let that be you!
Also, be prepared to be challenged both academically but also mentally. It's a step up from undergraduate level studies, so knowing that you may struggle initially (and that your cohort is in the same boat) will ease your worries going into the course.
Don't worry too much about hybrid learning during a masters degree - you will adapt to it quickly once the course gets underway
Finally, enjoy it! You will only be on course for a few years, so make the most of uni life while you still can!'