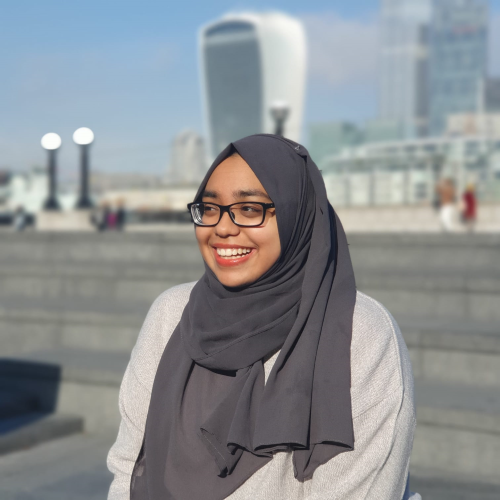 We're pleased to announce the winner for our Masters Compare Scholarship 2021/22 is Marjana, an MSc Management student at Imperial College Business School. Marjana shared her experiences of choosing to study a postgraduate degree and what winning the scholarship will meant to her. She started at the University in September 2021.
Can you tell us about your academic journey so far and why you wanted to carry on and do a masters?
I started my BSc in Biochemistry at King's College London in 2018, having done A Levels in Chemistry, Biology and History. Biochemistry itself is a very specialised degree programme, but the structure at King's meant that I was actually introduced to many different areas – from dissecting human cadavers to calculating the lethal doses of drugs!
However, despite the interesting topics, I quickly realised that I didn't want to work in the lab or academia after graduating.
At the same time, I was balancing studying with working as a Duty Manager at WHSmith, and this stimulated my interest in understanding business and the Consumer Goods industry in particular. This led me to pursue an MSc in Management, so that I could pivot from the biosciences into the world of business.
What made you choose Imperial College Business School
When I decided that I wanted to study a MSc in Management, I applied to Imperial College London and LSE, both of which I got offers from.
What made me decide to go to Imperial College Business School was the worldwide reputation amongst employers, the tailored careers support for the industry I want to go into, and their practical STEM approach to business which is quite unique among business schools.
On top of that, I knew that being part of such a diverse cohort – in terms of cultures, educational backgrounds and experience – would enrich the learning experience both inside and outside the classroom.
Why did you choose an MSc in Management - was it recommended to you?
The programme was not recommended to me, it was something that I researched and found out about!
Having had leadership experience at work and during my undergraduate studies, I knew that I thrived when managing others and working in teams. Given this, the MSc in Management was designed exactly for people with non-business backgrounds like me. Providing a solid foundation in topics like finance, accounting, leadership and even marketing!
Being able to tailor the programme to my interests by taking electives like Consumer Behaviour and Brand Management, also made the MiM stand out from other business courses.
You are just starting your course, but do you have any plans for further study or work once you have completed your masters?
After I finish my Masters, I would like to work in FMCG/Consumer Goods. Major companies like P&G, Unilever, Kraft Heinz, Mondelez etc. At the moment I'm looking into Sales, as it combines my interest in working with retailers and customers (having understood what happens on the shop floor myself!) I also like having responsibility to reach targets and analyse data to inform decisions. But nothing is set in stone just yet – I have to get through the Masters first!
What advice (if any) would you give to students who are thinking about starting a Masters in 2022?
Definitely, the pandemic made me reassess my priorities in terms of starting my Masters. I was lucky in that Imperial College invested so much to already have the technology to run classes in a 'multi-modal' format in case of Covid disruption.
I wouldn't recommend that prospective students defer entry and wait out the pandemic, but I would caution the financial side of things. I assumed when I was starting the course that I would be able to work part time alongside my studies, but flexible roles are quite hard to find at the moment. Especially if you are funding yourself, it's something to keep in mind.
What will winning this scholarship mean for you?
Winning the Masters Compare Scholarship has meant the absolute world to me – and I can't express just how grateful I am! Being a first-generation university student from a low income household, I realised early on that I had to raise the funds myself to get through university and postgraduate study.
That's why I worked incredibly hard to save my maintenance loans and bursaries throughout undergrad, generating £18,000 to use alongside the Postgraduate Loan to fund my Masters. However, I still had a shortfall in order to pay the incredibly high Imperial tuition fees (£30,700 for a year) alongside my living costs – with no-one that I could borrow money from to help.
All of this has meant that getting this scholarship has been nothing short of life-changing for me, as it has allowed me to really enjoy my time at university without worrying about how I'm going to pay my tuition fees – so thank you!
Next Steps
Make sure you stand a chance of winning the Masters Compare scholarship for 2022/23. All you need to do to enter is apply for the award here. Good Luck!