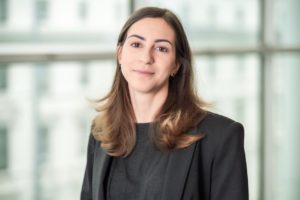 MastersCompare Scholarship Winner's Story. Our Masters Compare £5,000 Scholarship is a great way to help with your postgraduate studies. Last year, our successful winner of the scholarship was Kristia, a MSc Business Analytics student at Imperial College Business School in London.
We recently caught up with Kristia to find out how her course is going, and how the Masters Compare scholarship has helped her studies.
You were our MastersCompare Scholarship Winner in 2018, tell us how your first year of the MSc Business Analytics programme at Imperial College Business School has been?
The past year at Imperial Business School has been an incredible experience. The curriculum was specifically designed to address the growing demand for analytics professionals who can combine business acumen with advanced analytical skills. Thus, the programme did not only equip me with the necessary theoretical skills but also with vital practical experience which will prove invaluable once I start working.  Moreover, I had the opportunity to collaborate with a very diverse group of people from a different nationalities and academic backgrounds for a number of group projects, something I will definitely be facing in the work environment.
Overall it has been a year full of new friendships and an abundance of new knowledge.
How has winning the MastersCompare Scholarship helped you with your studies over the past year?

I have been incredibly fortunate to win the MastersCompare Scholarship this year. It has provided me the opportunity to spend more time to research and apply for jobs rather than working part-time to cover the high expenses of living in London. Additionally, the fact that I had this financial freedom meant that I also had more time to meet the demanding schedule of my degree. In the end, this has paid off as I was able to secure my dream job as a junior data scientist at a boutique data consultancy. 
What aspects of studying at Imperial College London have you particularly enjoyed?
Apart from the obvious perks such as studying at a prestigious world class institution in one of the greatest cities in the world, I particularly enjoyed the quality of teaching.
While the programme is offered by the business school, it did not lack the rigorous scientific approach that Imperial College is known for. The intersection of technology with business is something that only a few number of universities can successfully offer and I am glad I had the opportunity to attend one. 
What challenges have you encountered during your MSc programme?
The curriculum is very up to date and offers all the necessary knowledge required by a data analyst. However, as the course duration is only one year, the schedule is very demanding, with multiple exams, assignments and group projects throughout the year. Moreover, there is a very steep learning curve for students like me who have no computer science background.
What advice would you give to anyone starting a Masters course?
Masters courses tend to be very demanding in terms time and effort thus my main advice for anyone considering postgraduate studies would be to ensure that they have a genuine enthusiasm and interest for their field of study. While a relevant academic background in the field can in many cases not be necessary, I would also like to advice prospective students to thoroughly research the knowledge required for each module in the curriculum and ensure that they are up for the challenge. 
Next Steps:
Don't miss out! Find out more about the Masters Compare Scholarship.
Search and Compare a number of Masters courses on MastersCompare.co.uk
Read our Student Stories and find out more about life as a Master's student.