PhD graduate encourages men in disadvantaged communities to exercise more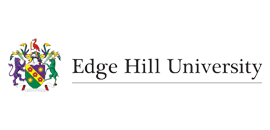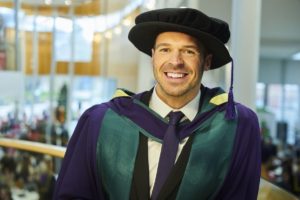 An Edge Hill student has graduated with a PhD after working to encourage men in disadvantaged communities to exercise more and improve their physical and mental health.
While studying for his PhD, Tom Duffell led research on a project called Active Blues, funded in part by The National Lottery through Sport England and run in partnership between the University and Everton in the Community (EitC).
Active Blues is part of an award-winning seven-year partnership between Edge Hill University and EitC which focuses on improving the health and lives of local communities through sport and physical activity.
Tom's research aimed to better understand the barriers to physical activity for men aged between 35-50, focussing on activities run by Active Blues in disadvantaged communities in North Liverpool, such as walking football, gym-based fitness sessions, golf and cycling.
The 32-year-old, who previously worked in exercise rehabilitation for the NHS, was grateful to have his PhD funded by the University and EitC and revealed he hoped to encourage similar partner opportunities at Staffordshire University where he is now a lecturer in sport, physical activity and health.
He said: "I'm so proud and happy to have graduated, and I hope I can continue to work on publications with Edge Hill academics like Professor Andy Smith and Dr David Haycock.
"I think it's great that Edge Hill has this partnership with Everton in the Community because it means students can gain vital volunteer and other work-related experience with their projects and undertake important research activity like I did.
"I hope I can encourage something similar between Staffordshire University, and Stoke City and Port Vale football clubs."
As part of his PhD, Tom, from Sandbach, evaluated the effectiveness of using a football brand to engage inactive men in physical activity; it is hoped his research will be used to inform EitC on how best to deliver future projects and Sport England's national policy and practice in sport.
Tom's supervisor Professor Andy Smith added: "Tom's thesis has informed practice in a range of ways, including new mental health and suicide prevention provision, and myself and Dr David Haycock are very proud to see him graduate and realise his ambition of becoming a university lecturer."