Masters study opportunities at Edinburgh, The University of
Masters and Taught Courses in Scotland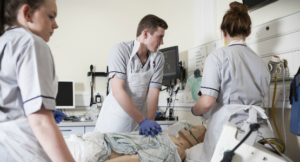 Inspiring the world since 1583
The University of Edinburgh is one of the world's top universities, consistently ranked in the world top 50* and placed 15th in the 2023 QS World University Rankings. Our entrepreneurial and cross-disciplinary culture attracts students and staff from across the globe, creating a unique Edinburgh experience.
As host to more than 45,000 students from some 156 countries, the University of Edinburgh continues to attract the world's greatest minds.
*Times Higher Education World Rankings
Teaching and research excellence
The latest report from the Quality Assurance Agency awarded us the highest rating possible for the quality of the student learning experience. We offer more than 300 taught masters programmes and 180 research areas and over 70 online programmes from across our three Colleges:
– College of Arts, Humanities and Social Science 
– College of Medicine and Veterinary Medicine
– College of Science and Engineering
Our position as one of Britain's leading research universities was reaffirmed by the results of the 2021 Research Excellence Framework (REF). The REF rates 90% of our research activity as world-leading or internationally excellent, ranking us 4th in the UK based on the quality and breadth of our research.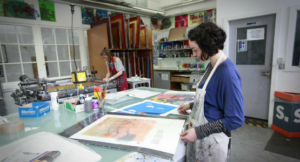 Supporting you and your studies
We provide a range of support services to help with your academic and personal needs.
Academic support
You will have access to academic support throughout your time with us. You will be assigned a personal tutor from within your School who will offer academic guidance and support.
We also offer a peer support scheme, guidance on study skills, and a short courses programme to enhance your skills base.
Postgraduate students can also benefit from our Institute for Academic Development (IAD) which provides information, events and courses to develop the skills you will need throughout your studies and in the future.
Libraries and IT
You will have access to 10 libraries, including the third largest academic library in Europe, housing over over 4 million printed volumes, E-books: 1.4 million, E-journals: 185,000, and 700 licensed databases. Many Schools also have their own subject-specific libraries.
You'll benefit from 30 open-access computer labs, including over 3000 computers, with 24-hour access across key locations. Free laptop loans are available from our libraries and there is almost 100% WiFi coverage in our buildings.
Health and welfare
We care about the health and wellbeing of our students and offer a number of services to ensure you are fully supported.
Newly opened in 2020 is our Health and Wellbeing Centre – a dedicated hub for students. It houses the Student Counselling Service and Disability Services, the University Health Centre and the University Pharmacy.
The Advice Place is a free advice and information centre, which offers independent and confidential advice on any aspect of university life.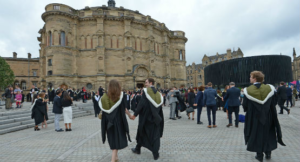 Careers and employability
Highly employable graduates
The University of Edinburgh is ranked in the UK's top 10 universities for the employability of our graduates* and our graduates are ranked 25th in the world by employers.**
*Times Higher Education, Global Employability University Ranking 2021
**QS World University Rankings 2022
Careers Service
Our award-winning  Careers Service offers practical advice and support. We encourage and support our students to plan and work towards their career goals.
Accommodation
Accommodation for postgraduate students is self-catered and can be found across a range of halls and flats.
Visit our accommodation website to find out more.
Childcare
We offer excellent childcare services, making it easier to juggle parenthood and study. We also offer advice on other nurseries, and the Edinburgh University Students' Association provides support and advice for parents too.
Student life
Get involved
Edinburgh University Students' Association (EUSA) has more than 260 societies covering a diverse range of interests, so you're sure to find something of interest. If not, we can help you set up your own. Societies provide a place to meet like-minded people, indulge in a hobby, or simply socialise.
If you enjoy being active, or just want to try out a new sport, our Sports Union offers over 60 sports clubs in which to get involved. As one of the top five sporting universities in the UK*, our Centre for Sport and Exercise is regularly voted one of Edinburgh's best fitness facilities.
*British Universities and Colleges Sport 2018/19
Edinburgh the city
The University is at the heart of the city of Edinburgh. Regularly voted one of the most desirable places to live in the world, Edinburgh is large enough to offer something for everyone but small enough to feel like home. It is a modern, sophisticated and beautiful European city, with a diverse multicultural community and is ranked 6th best student city in Europe and 12th in the world*.
Edinburgh is a compact city with excellent transport links, which makes it easy to get around and to travel to other parts of Scotland and beyond. Visit our city web pages to find out more about our stunning city.
* QS Best Student Cities 2022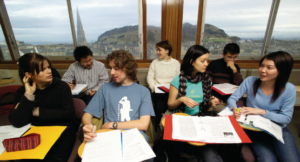 Postgraduate Virtual Open Days
Our Virtual Open Days are ideal for anyone considering postgraduate study – taught programmes or research degrees, on-campus or online. These comprise subject talks and presentations, live chat with students and staff, and essential information on student life, support and services.
Online information sessions
If you can't see us in person or you would like further information, we offer postgraduate online information sessions
Contact us
If you have any questions, please don't hesitate to get in touch:
Tel: +44 (0)131 650 4360
Email: Enquiry form