Masters study opportunities at University of Portsmouth
Masters and Taught Courses in South East England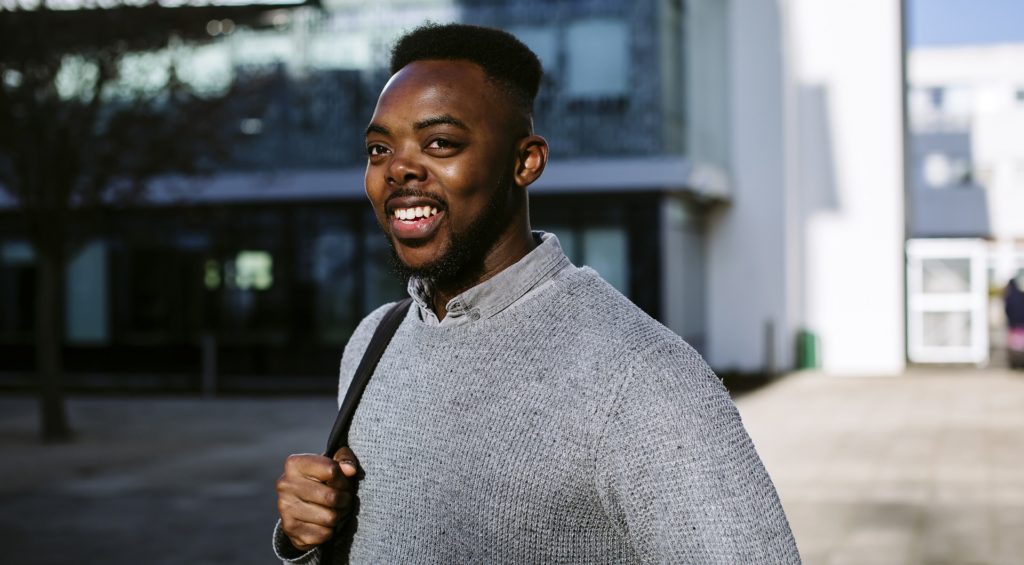 Master's study opportunities at the University of Portsmouth
A range of postgrad courses on the island city
Go where ideas inspire. Where you feel the courage to think bolder. Your best begins at the University of Portsmouth.
It's time to dive deeper into what you love and become a real expert. You're ready to explore bigger, broader, deeper things – to get to the heart of what matters and figure out how you can make your mark.
Follow your passion at a university where pioneering research saves lives and transforms livelihoods. Discover ideas and skills that make your life and career more rewarding.
Taught qualification or independent research? On-campus teaching or online part-time study? At Portsmouth, you can choose from a wide range of subjects and modes of study.
Why Portsmouth?
5***** rated for excellence in the QS World University rankings 2021
Outstanding Gold-rated teaching for our students (TEF)
Dedicated Graduate School supporting all research students
84% satisfaction with course quality (PTES Postgraduate Taught Experience Survey 2020)
Master's Scholarships available for high achievers
Courses designed for the career you want
You're heading towards a highly competitive global job market. It really pays to be prepared. At Portsmouth, we offer courses designed for the career you want. That blend first-rate research facilities with practical application. Our tutors' research, links with industry and international connections bring relevance and purpose to learning. They'll help turn your studies into a springboard to success.
Our Careers and Employability Service offer expert, tailored advice to help you secure and shape the future you want. They have strong links with local employers. They can advise you on career planning and volunteering opportunities. And they organise dedicated employer events. You can tap into their support for up to 5 years after you leave us.
You're not on your own when you study postgraduate at Portsmouth. We're here with a wide range of advice, guidance and support to help you get the absolute best from this unique time in your life. From housing to wellbeing to advanced study skills, we've got your back.
Covering your costs
You're investing in your future. We want to help you do it wisely. We're here to help you understand the fees and costs involved, and what support is available to you. That support could include a Master's Scholarship of up to £3,000 if you're a high achiever. We have scholarships available for January and September 2021.
Here's a fact that should give you some peace of mind: Portsmouth is one of the UK's top 20 most affordable cities for students, according to the NatWest Student Living Index 2020.
Take a look at our comprehensive guide to fees, funding, scholarships and more.
Research breakthroughs
We are a university that solves society's problems. Many researchers are actively involved in teaching.
Recent breakthroughs include the discovery of a new enzyme that could make single-use plastic recyclable, the development of new lightweight components for vehicle parts made from more sustainable materials, and the use of virtual reality to help prevent burglary and rehabilitate offenders.
A great place to live and study
Steeped in history but with a modern vibe, Portsmouth is an island city that's open to the world. There's inspiration round every corner, and beaches and boutiques just a few steps away.
Everything's close by in Portsmouth. In the course of a day you could go from the deck of a historic ship, to a bustling shopping street, browse in a gallery and relax on the beach. The city's flat – perfect for cycling – and it's easy to get around. By night, the city comes alive with gigs, bars, restaurants, clubs and shows.
Our compact campus is threaded through the heart of the city – rubbing shoulders with cafes and venues, yet just a stone's throw from green spaces and beaches. It's home to students from all walks of life, and from all around the world. We're constantly investing in new facilities to help them fulfil their ambitions. Ready to join them?
Postgraduate events online and on campus
Get face time with course leaders. Hear top tips from our students. See how flexible postgrad at Portsmouth is. Find a way forward with funding and finance. Meet people who want to help you progress. These are just some of the opportunities you can take advantage of at a postgraduate open evening or virtual experience. If the Covid-19 situation prevents us running events on campus, there will always be a virtual experience giving you the same valuable information.
Request a prospectus
You'll find more great reasons to choose Portsmouth in our Postgraduate Prospectus.
Discover more about Portsmouth's postgraduate taught courses: