Postgraduate funding opportunities at UCL
PhD and Doctoral Courses in London England
UCL is a top-ranked university with life-changing research and a progressive approach to academia, making it different from the rest.  At UCL, postgraduate students learn by doing—shaping the world around them with a hands-on approach. Innovators, industry disruptors, thinkers and change-makers choose UCL to jump right into postgraduate studies across hundreds of programmes.
UCL London's Global University
Change the World Around You
Where Novel Thinking is Nurtured and Encouraged
UCL is a diverse community with the freedom to challenge, to question and to think differently. Our community pursues academic excellence, breaks boundaries and makes a positive impact on real-world problems.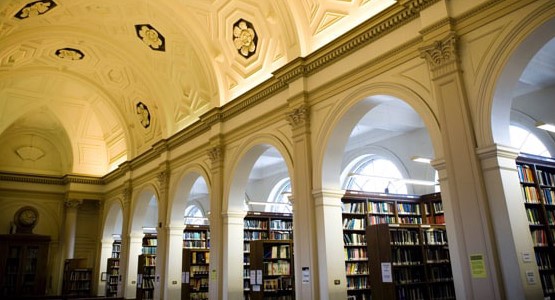 An Academic Powerhouse

UCL is 8th in the world in the "QS World University Rankings 2022."
There have been 30 Nobel laureates among its former staff and students; a winner in every decade since the Prize started.
At the very heart of UCL's mission is our research. We were rated second in the UK for research power in the last "Research Excellence Framework (REF 2021)."
Graduate Research Degrees at UCL
When you undertake a research degree at UCL, you embark on an extraordinary journey, joining a vibrant community of around 8,000 research students and over 9,000 academic and research staff involved in research and supervision across our 11 faculties.
UCL is a centre of innovative cross-disciplinary research and has academic staff with some of the strongest backgrounds in their specialist fields in the world. We offer over 100 graduate research programmes across a wide range of disciplines and encourage our community to work across traditional subject boundaries.
UCL's research-based teaching methodology means that research is integrated into many of our degrees and students have the opportunity to make an original contribution to their field of study. Through courses, inter-disciplinary programmes, and scholarships we encourage research students to look beyond the boundaries of their chosen discipline, as well as sharing and broadening knowledge across disciplines through societies and competitions.
UCL Doctoral School
UCL Doctoral School is committed to ensuring that the quality of research training at UCL is at the highest international level. We aim to ensure that you as a research student or supervisor work in a high quality research training environment. We aim to develop creative rigorous researchers for both academic and non-academic research careers across the world.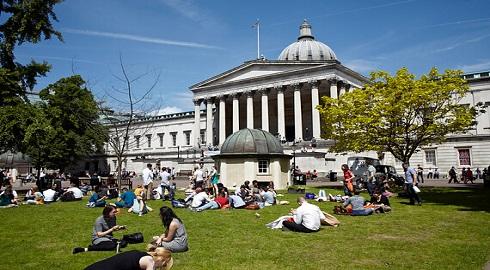 London's Global University
UCL is located in one of the world's most dynamic cities, with one campus in the heart of Bloomsbury, and a second campus in vibrant east London, meaning you are perfectly placed to take advantage of everything London has to offer.
We were the first university in England to welcome women to university education, and the first university in England to welcome students of any religion or social background.
UCL has 18,000 students from outside the UK, with over 150 countries represented—providing a truly global perspective.
The world is speeding up. But UCL is ready.
Our new campus, UCL East, builds on our progressive history, positive impact and disruptive spirit.
At UCL East students will have the opportunity to work with world-leading academics, external partners and fellow students, to break boundaries and make an impact on real world problems. Find out more about the innovative programmes on offer at our vibrant east London campus.
Your Future

UCL has been ranked among the top 20 universities worldwide for graduate employability in the 2022 QS Graduate Employability Rankings.
At UCL we know that students choose to enter graduate study for a myriad of reasons, and we are deeply committed to supporting our student's aspirations and enhancing their skills and employability.
UCL Careers Service helps students to find their perfect career, develop their professional skills or start their own business through one-to-one guidance and events, as well as a variety of career information.
Recruitment and networking events help students improve their knowledge of a particular industry sector and specific employers. For students interested in starting a business, UCL Innovation and Enterprise gives expert advice and practical support, as well as networking opportunities.

Study Climate Change at UCL
A UCL education is a climate education. UCL students have the opportunity to delve into climate issues and make an impact through many of UCL's programmes of study.
Our students bring new thinking on climate action; from designing solutions to UCL's climate challenges through the Living Lab programme to helping us implement the changes as Sustainability Ambassadors  and holding us to account at the UK's first Student Sustainability Council.
Find out more about UCL courses and modules with a climate change focus or element.
Generation One
UCL is turning ground-breaking science and ideas into actions to tackle climate change.
Inspired by the words of former US President, Barack Obama: "We are the first generation to feel the effect of climate change, and the last generation who can do something about it.", Generation One offers everyone the chance to understand the science behind the issues facing our planet. UCL is driving debate and solutions, empowering everyone to feel they can contribute, rather than being overwhelmed by the challenge. Find out more and pledge your action.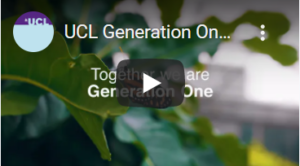 Connect With Us

Follow us on  Instagram
Find us on  Facebook
Follow us on  Twitter
Connect with us on  LinkedIn